1923 Le Testament
the complete opera as composed by Ezra Pound and edited by George Antheil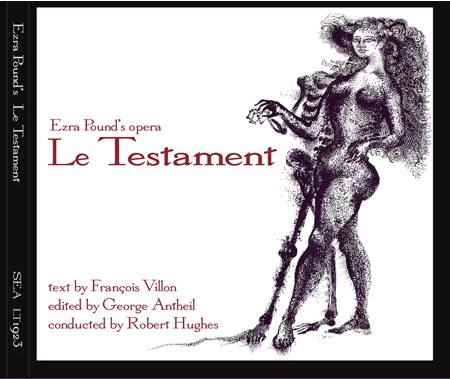 Le Testament

an opera composed by Ezra Pound


Libretto by François Villon and Ezra Pound
Performed by the San Francisco Opera
Robert Hughes, Conductor
Digitally re-mastered from the original 1972 Fantasy LP recording

Label: Second Evening Art (SEA LT1923)
ISRC QM-YJ5-11-00021, list price $21.00


Purchase:

amazon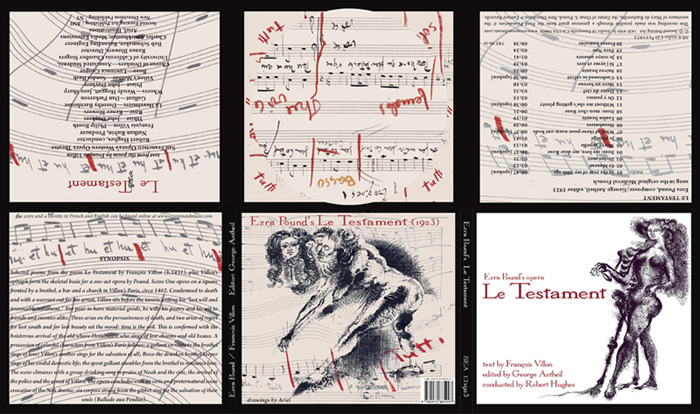 Le Testament.

A fun gift item: the audio CD in a 6 panel CD digipak with designs
by Ariel for the San Francisco Opera production.






About the opera
Le Testament, composed by Ezra Pound and edited by George Antheil, is a one-act opera in two scenes that dramatizes the hour in which François Villon (b.1431) returns to Paris to pen his last will and testament. The music's irrational rhythms, dictated by Pound to Antheil, who transcribed them into formal notation, are some of the most difficult meters found in early twentieth-century music.

Scene One: a square fronted by a brothel, a bar and a church in Villon's Paris, circa 1462. Condemned to death and with a warrant out for his arrest, Villon sits before the tavern writing his "last will and irrevocable testament." Too poor to have material goods, he wills his poetry and his wit to friends and enemies alike. Three arias on the pervasiveness of death, and two arias of regret for lost youth and for lost beauty set the mood: time is the evil. This is confirmed with the boisterous arrival of the old whore Heaulmière who sings of lost charms and old beaux. A procession of colorful characters from Villon's Paris follows: a gallant en route to the brothel sings of love; Villon's mother sings for the salvation of all; Bozo the drunken brothel keeper sings of his sordid life; the spent gallant stumbles from the brothel to renounce love. The scene climaxes with a group drinking song in praise of Noah and the vine, the arrival of the police, and the arrest of Villon.

Scene Two: The opera concludes with an eerie and preternatural scene evocative of the Noh drama: six corpses strung from the gibbet sing for the salvation of their souls (Frères humains).
About the recording
This digitally re-mastered audio CD was made from the original Fantasy Studios recording following the 1971 world premiere of the complete opera at Zellerbach Auditorium in Berkeley, California. The opera is performed by The San Francisco Opera's Western Opera Theatre and conducted by Robert Hughes. Cast: Philip Booth as Villon, John Duykers as Ythier, Dorothy Barnhouse as Heaulmiere, Sandra Bush as Villon's Mother and Lawrence Cooper as Bozo. Duration: 50 minutes.

From the audio CD


Dites moy. Philip Booth, baritone, in the role of François Villon.

Dame du ciel. Sandra Bush, mezzo-soprano in the role of Villon's mother.

Villon and Heaulmière. Philip Booth as Villon and Dorothy Barnhouse as La Heaulmière.

Frères Humains. University of California Chamber Singers, Renee Blowers, Director.
Reviews
"...a modernist triumph..."

Richard Taruskin, New York Times. Read the full review.

"...has historic interest..."

American Record Guide, Sept/Oct 2003.

"...fresh and fascinating...

This idiosyncratic body of work proves to be full of rare pleasures and well worth hearing." Joshua Rosenblum, Opera News, August 2003. Read the full review.

"There's a passion in this music which is compelling....

Of all the poets who've dabbled in music, Ezra Pound was the most ambitious... the performances have a strange intensity, like a cross between Carmina Burana and Diamanda Galas." Ivan Hewett, BBC Music Magazine, August 2003.

"...it may well be the finest poet's music since Thomas Campion....

It bore family resemblances unmistakable to the Socrate of Satie; and its sound has remained in my memory."
Virgil Thomson in Virgil Thomson.
Ezra Pound's opera Le Testament
Purchase:
amazon