COLLIS O HELICONII
3rd Opera by Ezra Pound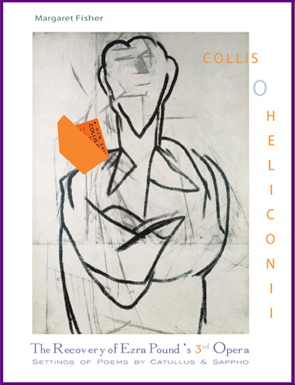 The Recovery of Ezra Pound's 3rd Opera
Settings of Poems by Catullus & Sappho
Music composed by Ezra Pound
Texts by Catullus and Sappho
Introduction, Analysis, and Performance Edition by Margaret Fisher

Second Evening Art Publishing, 2005, first edition
180 pages, perfectbound (paper), shrinkwrapped, ISBN 9780972885935, list $40.00


Purchase:

amazon
About the opera
Pound commenced a third opera project sometime in the mid 1920s or early 1930s but left it unfinished c.1934. His music sketches for one aria by Catullus, carmen LXI ("Collis O Heliconii"), and one aria by Sappho, fragment 1 ("Poikilothron' athanat' Aphrodita"), are linked by incidental music. Pound also sketched a scenario regarding the staging of the opera.
Dramatic action of carmen 61
The setting:

In the distance, the hills of Helicon, where Hymenaeus and the muses abide.

In the foreground, two houses, one belonging to the family of the bride, the other to the bridegroom, with
a path or road between them.

The players:

The young boys
The young virgins
Catullus: master of ceremonies of the wedding procession
Bride: Vinia Aurunculeia
Bridegroom: Manlius Torquatus

The action:


A festive crowd gathers outdoors at dusk. The boys carry pine torches and toss the nuts that are sacred to the marriage celebration. The virgins scatter flowers. The bride must dress and make the traditional journey from her mother's embrace to the bridegroom's bed chamber. Here the wedding party will sing and joke outside the closed door, preventing jealous gods from disturbing the couple's lovemaking. The master of ceremonies calls for Hymenaeus to descend from Helicon. He instructs the young girls to prepare the bride and directs the young boys to form the wedding procession.
About the book
This book is in two parts
Part I: Introduction to Catulllus and Sappho, and to Pound's published remarks concerning each. Analysis of the musical treatment and problems in the manuscript tradition. Examples of the setting of a poet's words as an act of criticism. The influence of the setting of Catullus' carmen LXI on Pound's Canto XLV.

Part II: The engraved performance edition for violin and voice: Excerpts from the 2 principal arias, 3 incidental numbers, a transcription of Pound's undated, unfinished translation of carmen LXI, and Pound's sketch for a scenario for the dramatic setting of carmen LXI.


Audio Excerpt
Poikilothron' athanat' Aphrodite.
Arranged for violin. David Abel, violin.
Stanza 1 begins 30 seconds into the music.
(The aria has never been performed.)
About the Editor
Margaret Fisher, Ph.D. is an independent scholar and performance/media artist. She is the author of Ezra Pound's Radio Operas: The BBC Experiments (The MIT Press). With Robert Hughes she edited The Complete Music of Ezra Pound in five volumes.
The Recovery of Ezra Pound's 3rd Opera, Settings of Poems by Catullus & Sappho


Purchase:

amazon