CAVALCANTI
Radio Opera by Ezra Pound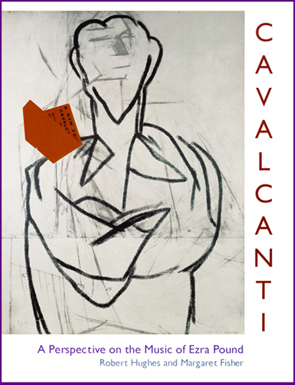 Cavalcanti: A Perspective on the Music of Ezra Pound


Ezra Pound's three-act opera, libretto by Guido Cavalcanti and Ezra Pound
Series Editors: Robert Hughes and Margaret Fisher

Second Evening Art Publishing, 2003, first edition, double volume, numbered
Vol I: Essays about Pound as a composer
Vol II: Engraved music score with libretto
442 pages, perfectbound (paper), shrinkwrapped, ISBN 9780972885911, list $65.00


Purchase:

amazon
About the opera
The three-act lyrical opera dramatizes the life of Florentine poet Guido Cavalcanti (c.1250-1300) through eleven of his canzone and ballate. Two additional numbers are settings of poems by Sordello in Provençal. By the 1960s the opera was thought to be lost. Robert Hughes located the missing half of the opera to assemble this complete, fully-engraved performance edition. Duration: c. one hour.

About the book
Volume I. A systematic analysis by the editors of Pound's music training, the application of his musico-poetic theories, methods of composition, and a music analysis of the opera. Additional material: The genesis and sources of Pound's Great Bass theory; and, Creation of the work as a radio opera to be performed by the BBC's Features Department.

Volume II. The definitive performance edition of Pound's Cavalcanti, drawn from the uncatalogued and dispersed music manuscripts in the Beinecke Manuscript and Rare Book Library (Yale University). This is the full music score with piano reduction and stage instructions. All music is composed by Ezra Pound. Additional narrator's script, dialogue, and stage instructions are by Pound; editorial notes by Robert Hughes.


Table of Contents
Audio Excerpts from Cavalcanti
Available on audio CD (Other Minds 1005-2)
Sol per pietà. Excerpt from Act I, No. 2.
Robert Tate, tenor, as one of the "Bianchi".

Tos temps serai, Act II, No. 2.
Tammy Jenkins, soprano, in the role of Vanna.

Performing Forces
Cast (in order of appearance)

Guido Cavalcanti: Baritone, with a wide range
Bruno Brunelleschi (Buendelmonti): High Tenor
Three friends: i Bianchi

1st friend: Tenor
Lapo Gianni: Baritone
2nd friend: Bass

Giovanni, the Cobbler: Baritone or Bass
Vanna: Soprano
A French soldier: High Baritone
Ricco (Guido's page): Boy Soprano (or Light Tenor)
The Seneschal: Bass Baritone
Fortuna: Soprano
(The editors note the opera could, alternately, be done with 8 singers, the principal voices being those of Cavalcanti, Betto Brunelleschi, the three Bianchi, the Cobbler, Vanna and Ricco; and the doubled voices being those of the French Soldier, the Seneschal and Fortuna. It is possible, though not preferable, to present Cavalcanti with 5 singers in a 'concert' version or in a theatrical performance using adept staging.)
Orchestra

Flute, EH, Bsn, Tbn, Vln, VC, CB, Perc (3 timpani, small drum, snare drum, tambour [without snares], bass drum, tambourine, cymbals)
Rental Parts
Conductor's score, vocal and instrumental parts, and piano score are available for rental on request from Second Evening Art Publishing, 1420 45th St. #16, Emeryville CA 94608, (USA) 510-653-5009.
About the Editors
For the publication of Pound's complete oeuvre of music, Robert Hughes and Margaret Fisher received a Lifetime Achievement Award from the Ezra Pound Society (2014).

Robert Hughes, composer, conductor, and bassoonist, met Pound in Washington, D.C. Their brief discussion about music eventually led Hughes to mount Pound's first opera Le Testament with the San Francisco Opera in 1971. He assembled Pound's complete second opera Cavalcanti from manuscripts that had become separated over time and premiered that work in San Francisco with the Arch Ensemble for Experimental Music. He published performance editions of Pound's complete works for violin, and is conductor and artistic director of two audio CD's of Pound's music.

Margaret Fisher, Ph.D., is an independent scholar and performance/media artist. She is author of Ezra Pound's Radio Operas: The BBC Experiments (The MIT Press) and The Recovery of Ezra Pound's 3rd Opera, Collis O Heliconii (Second Evening Art).
Cavalcanti: A Perspective on the Music of Ezra Pound


Purchase:

amazon